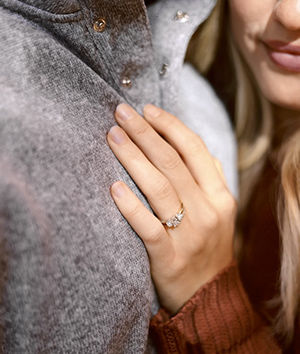 Choosing to tie the proverbial knot is one of the most important decisions that you will ever make. This is why even the smallest of details should never be overlooked. have you considered what type of engagement ring to purchase? This can actually be quite challenging in terms of finding the right inspiration so that you can create a truly personalized gift. What do the experts have to say? Let us take a look at some tips and tricks that may be able to provide you with an additional level of insight.
Know your Limitations
Before moving on, it is first crucial to identify how much money you can afford to spend. There is no use searching for extremely ornate rings or large carat sizes if this will result in nothing more than a bit of window shopping. As a general rule of thumb, most individuals tend to devote two months of their salary towards the purchase of an engagement ring.
Band Materials
Although gold is the most popular choice, perhaps your partner is more allured by the subdued sparkle of silver. Another advantage of silver is that this metal is obviously cheaper when compared to gold. If price is no concern, you may also choose a platinum or palladium band. These are considered to be the most prestigious metals.
Choosing the Stone
This is the most crucial step, as a precious gem will represent the centerpiece of the entire engagement ring. In most cases, the weight of a diamond will range between 0.1 and 1 carat. Of course, the weight is also reflected in the size. While larger stones may appear quite flashy, keep in mind that their dimensions should aesthetically balance with the band as well as the setting.
As you've probably noticed our website is all about fancy color diamonds. Though those can be centerpieces of gorgeous and exotic diamond rings, most people prefer white colorless diamonds for a timeless and classier look for their engagement ring design.

There are also numerous diamond cuts to choose from. Online suppliers such as Whiteflash diamonds provide a stunning array of styles and these will likewise impact the appearance of the ring. Once again, it is wise to take the preferences of your significant other into account.
The Presence of Other Gemstones
Diamonds are not the only stones which can be present within an engagement ring. In fact, a growing trend is to employ other gems such as sapphires and rubies in order to truly bring the ring to life. This choice can be based off of a favorite color or a birthstone (such as a peridot or an amethyst).
Additional Sources of Inspiration
The Internet can also provide you with a host of inspirational ideas. For example, general searches such as "latest celebrity engagement rings" or "the top engagement rings for a summer wedding" will offer a plethora of unique results.
The main takeaway point here is that every engagement ring should reflect your personal sense of devotion while personally appealing to the wearer. Much like a delicate snowflake, no two engagement rings should ever be alike. Please do not hesitate to bookmark this page for future reference and to follow the recommendations outlined above.